NATO "Saber Guardian 23": Medical evacuation exercise at Kogalniceanu Air Base
NATO "Saber Guardian 23": Medical evacuation exercise at Kogalniceanu Air Base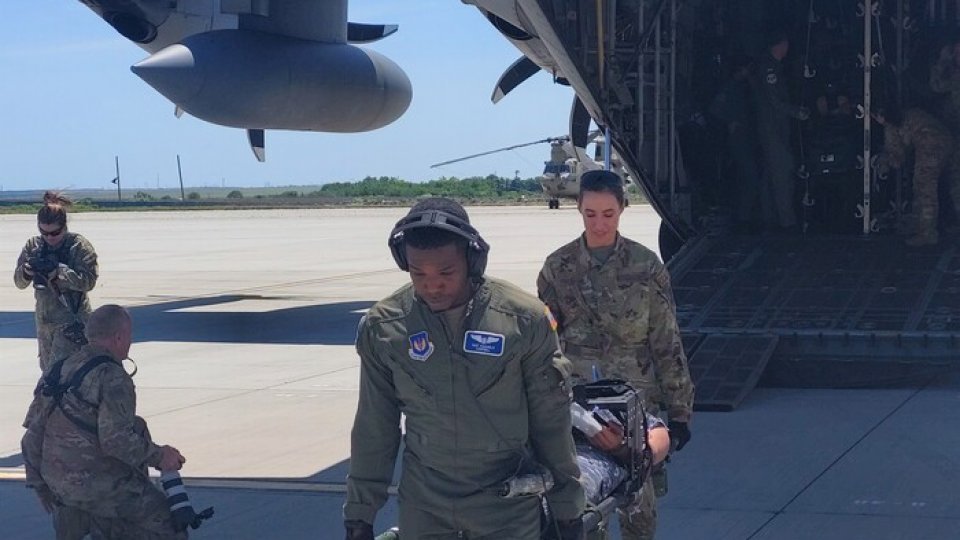 Articol de Sorin Cealera, Constanța, 07 Iunie 2023, 03:04
The NATO exercise "Saber Guardian 23" continued, yesterday, with a medical evacuation sequence at the "Mihail Kogalniceanu" Air Base.
The American, Polish and Romanian military simulated the emergency transport of some wounded to the American air base in Ramstein, Germany, and tested their ability to work together. RRA correspondent, Sorin Cealera, transmits.
"Hospital Exercise 23" is a multinational exercise that aims to jointly train the armed forces of the United States, allies and NATO partners, so that they are able to operate together and ready to respond to any threat from any direction. The 86th Aeromedical Evacuation Squadron of the US Armed Forces simulated a medical evacuation of patients from Romania to Ramstein Air Base in Germany. Colonel Vanessa Moses, commander of the 86th Aeromedical Evacuation Squadron.
Vanessa Moses: We try to make sure that we can maximize the interoperability between our forces in any type of combined operations. It is a simulation of evacuating patients injured in a bridge collapse. We try to practice for real situations, to be able to do these things effectively in wartime.
"HOSPEX 23" is part of the "Saber Guardian 23" exercise, ongoing until June 9 in the Danube Delta and the Black Sea region, and is included in "Defender 23", a multinational exercise led by the US Army in Europe and Africa, which brings together soldiers from over 20 allied and partner countries.
"Defender 23" runs until June 22.
Translated by: Radu Matei