K. Iohannis: Romania will continue to support Ukraine as long as it is necessary
K. Iohannis: Romania will continue to support Ukraine as long as it is necessary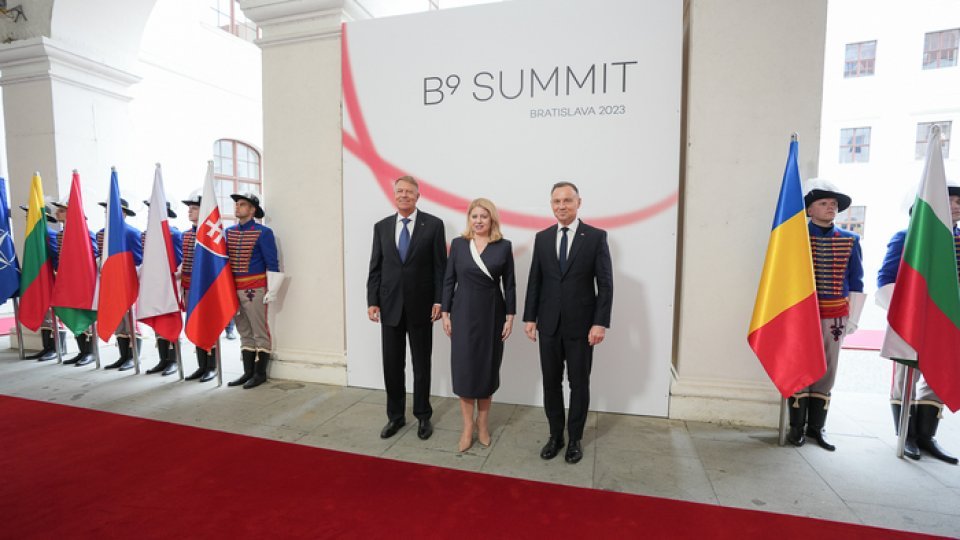 Articol de Adrian Lungu, Sălaj, 07 Iunie 2023, 02:59
Romania will continue to support Ukraine as long as it is necessary, President Klaus Johannis assured.
He was present yesterday in Bratislava, in the capital of Slovakia, at a new meeting of heads of state and government from the so-called B9 format, which includes nine NATO member countries from Central and Eastern Europe.
The Secretary General of the Alliance, Jens Stoltenberg, was also present. He said the organization will take significant decisions at next month's summit in the Lithuanian capital, Vilnius, to bring Ukraine closer to NATO. The special envoy of RRA, Adrian Lungu, reports.
President Klaus Iohannis and the leaders of the other B9 countries discussed yesterday, in Bratislava, the most important aspects regarding the security of the eastern flank, against the background of the war in Ukraine.
Klaus Iohannis: The Bucharest 9 format retains its added value. Solidarity, dialogue and cooperation are the foundations of our common strength and resilience. Romania is the NATO ally with the longest border with Ukraine and we clearly understand the need to strengthen our national defense.
Reporter: The support offered to Ukraine will continue, the head of state emphasized.
Klaus Iohannis: We will continue to support Ukraine as long as necessary. Ukraine's victory in this war is our main goal. At the same time, Romania's support for Ukraine's accession to the Alliance is unwavering. At the same time, we must strengthen support for NATO's vulnerable partners, especially for the Republic of Moldova.
Reporter: The agenda of the discussions will also aim to evaluate the progress achieved in the implementation of the allied decisions adopted during the NATO summit in Madrid.
Producer: The summit in the Spanish capital took place last year, in the first months of the war started by Russia in Ukraine.
Translated by: Radu Matei