Visit to the 1st Training Battalion from Caracal
Visit to the 1st Training Battalion from Caracal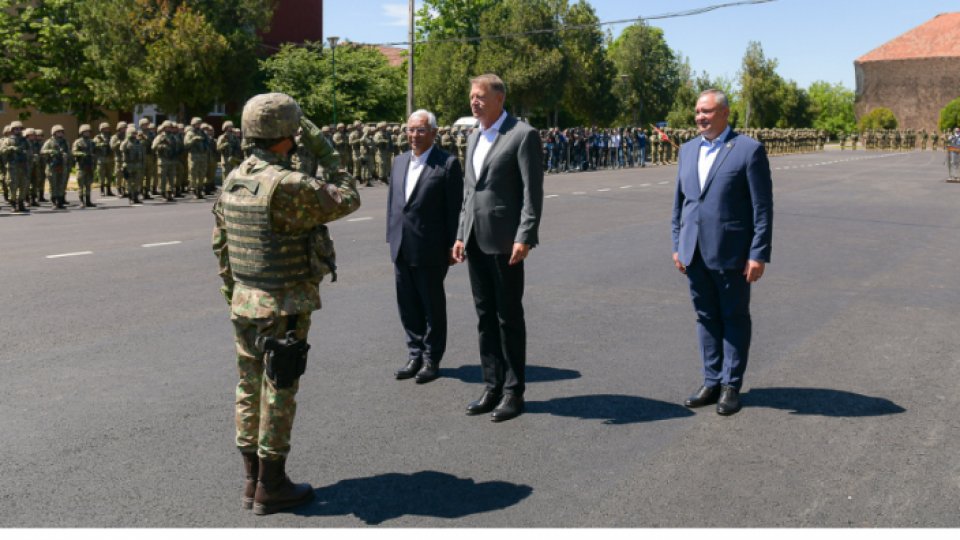 Articol de Oana Bâlă, 20 Mai 2022, 03:05
President Klaus Iohannis visited yesterday afternoon, together with the Romanian and Portuguese prime ministers, the 1st Training Battalion from Caracal. About 200 soldiers from Portugal are training there, who were deployed Romania this year, to consolidate NATO's South-Eastern Flank.
Romania and Portugal are successfully coordinating to strengthen defense in the Black Sea region, but also on NATO's South Side, said President Klaus Iohannis, recalling that in 2014, after the illegal annexation of the Crimean peninsula by the Russian Federation, an extensive process of adapting the Alliance to a volatile and unpredictable security environment had started.
Klaus Iohannis: "The war of the Russian Federation against Ukraine has put us in front of a new strategic reality. We have reacted and will continue to react unitedly, courageously and resolutely within NATO, by strengthening the position of deterrence and defense on the Eastern Flank, especially in the Black Sea region. Our joint decisions and actions within the North Atlantic Alliance, including your presence here, demonstrate the determination and operability that define NATO and us as allies."
The Prime Minister of Portugal, Antonio Costa, stressed that the outbreak of the conflict in Ukraine, after the Russian invasion on February 24, caused major changes in Europe's security and that on that day his country approved the deployment of forces in Romania to strengthen NATO activities on the East Side. In his turn, Prime Minister Nicolae Ciuca thanked Portugal for its substantial contribution to the multinational structures in Romania, but also for its participation in the measures of increased vigilance in Romania.
Translated by: Radu Matei