MApN, clarifications regarding the Air Force Day festivities
MApN, clarifications regarding the Air Force Day festivities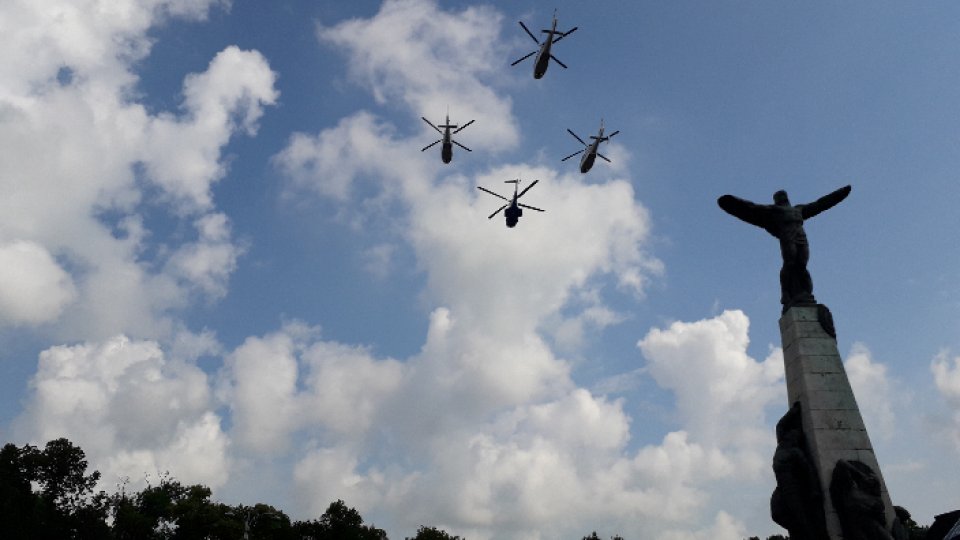 Articol de Radiojurnal, 16 Iulie 2021, 05:36
Military planes will not participate in the parade organized for the Air Force Day, on July 20, instead, in the ceremonies dedicated to the end of the Romanian military missions in Afghanistan, on July 21, Hercules and Spartan transport aircraft will take part, the Ministry of Defense announced.
The clarification comes after the planned training flights over the Capital for the two events were canceled, as a result of yesterday's flight incident, in which an American Army helicopter was involved.
The aircraft reported a technical failure and had to make an emergency landing in Charles de Gaulle Square in Bucharest, in full road traffic.
MAPN spokesman Constantin Spinu: I want to emphasize that there were no victims, neither from the crew nor from here, on the spot. Safety is what matters, and that is why the decision was made to cancel the Air Force's participation with aircraft in the upcoming ceremonies.
Host: The Military Prosecutor's Office was notified yesterday about the incident, said the institution's spokesman, Florin Bobin.
The spokesperson of the Military Prosecutor's Office, Florin Bobin: Our presence on the spot is natural. We were notified about this event, so a case was opened, in which investigations are made into what happened. Most likely it will be a classification 349, 350 Penal Code, for non-compliance with measures on safety and security at work, but it is only an estimate. I can not tell you at this time clearly because I am not conducting the investigation, it is the attribute of the fellow prosecutors who make the investigation effective, but we will do our duty, respecting all legal rules the US military has on national territory, according to the treaty.
Translated by: Radu Matei