Interview with the Prime Minister of Romania, Nicolae Ciucă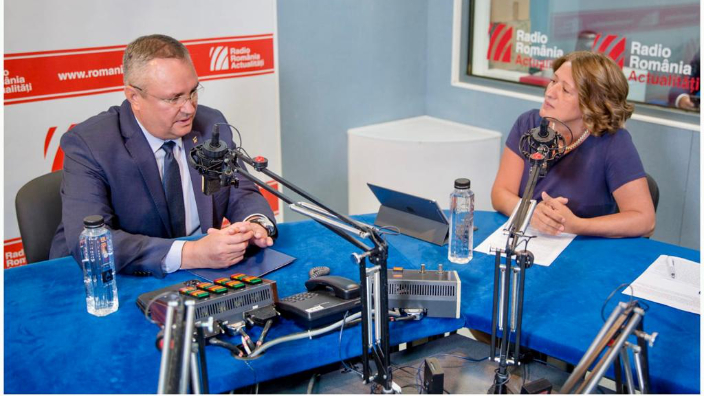 Prime Minister of Romania, Nicolae Ciucă. Photo: Alexandru Dolea
Host: Welcome dear friends! We are now at the beginning of a summer that promises to be very capricious literally, but also figuratively. We were barely recovering from the crisis triggered by the Covid-19 pandemic, when two other major events hit, leading to an even heavier a stress on every Romanian: the energy crisis and the conflict in Ukraine. Caught between healthcare concerns and worries about a decent living, Romanians are expecting from the country's leaders concrete solutions, adapted to the reality of this period, but also medium-term strategies, which will ensure economic development and a much desired well-being. How can we stop prices from rocketing, the national currency from devaluating and the inflation from rising? What is the Government's strategy to ensure Romania's energy independence? What are the opportunities and risks for our country in the current geopolitical context? Tonight's guest on "'The Night Service" is a man who not only has the answers to all these questions, but also the solutions and the necessary authority to implement them: the Prime Minister of Romania, Nicolae Ciucă. Good evening and welcome to "The Night Service".
Nicolae Ciucă: Good evening! Nice to be here!
Host: Prime Minister, let's start with the news of the day. So, what is the good news after the government meeting, because people are hoping that the mechanism for compensating the increase in prices for petrol and diesel will be implemented quickly? How will this mechanism work in practice and how much do you expect the fuel prices to drop?
Nicolae Ciucă: Two weeks ago, maybe even earlier, we analyzed this issue of fuel prices and, of course, we also took into account the things that happened several months ago, when, you remember, the price of fuel increased in just a few hours, above 10-11 lei and the context in which we felt we had to do something was practically aligned with that emergency ordinance by which we set out to and we actually developed a tool to fight profiteering. Basically, last week in the government meeting I instructed the relevant ministers, more precisely the Minister of Energy and the Minister of Finance, to check, together with the competent institutions in this field, which were the fuel price elements and, at the same time, to come up with measures that would help manage the impact, the effects that increases in fuel prices could produce. Later, we had a debate and, of course, we conducted an analysis within the coalition. We had an open dialogue with representatives of the industry, because we started promoting that dialogue right from the beginning of our mandate, as we believe we should have a fair approach regarding all players in the field. So, we came up to the conclusion that a fair measure is need for all stakeholders, and also fair and honest measures to protect our citizens, to protect our economy and to also afford taking such measures, because here we are talking about a whole series of crises that have been affecting both citizens, the economy, our daily lives, and which the government has to manage and take measures so that ...
Host: Simultaneously....
Nicolae Ciucă: …simultaneously and chained, and some even overlapping. So, based on the analysis made by specialists, we were able to make this decision, that, starting July 1, for a period of three months, together with the industry, as I said, the fuel price at gas stations would by lowered by 50 bani, and that will be visible on the ticket, without entailing any other bureaucratic maneuvers. The Ministry of Finance together with the Ministry of Energy have identified the necessary mechanisms, which are to be translated into a procedure, and so, by means of a normative act issued by the Government, we will be able to regulate the decision we've made today.
Host: Prime Minister, would it be normal for the people who listen to us to say: "it's a good measure, but 50 bani doesn't seem much. What is the effort, couldn't you do more?
Nicolae Ciucă: First of all, the total value of this decision is 2 billion lei. The government was able to identify this amount, actually 50%, 1 billion lei, which we can allocate for the measure we are talking about and the other half should be borne by the producer, by the oil industry. We also took into account the examples and models that have been applied in other countries. Today, in the press statement, I mentioned Spain and France. It is a formula that they have applied there as well, and at the same time we have taken into account that in a crisis situation balanced measures are needed and we can see in neighboring countries what happens when you suddenly intervene with measures that produce undesirable effects in the economy of this specific activity of insuring petroleum products and, being a free market, we all know that there is also a market reaction. As such, that's what we agreed upon and I would have personally liked, just like the Government, to be able to do more. But I cannot go out there, in front of the people, and announce a measure that we cannot support administratively. Especially in moments like these, honesty and transparency, telling people the truth is essential. We've been going through these successive, multiple crises, and it hasn't been easy, so we need balanced measures, measures that will keep us stable. I think that more important than anything at the moment is to ensure stability and to ensure balance in all respects. A political approach in such situations is totally unproductive and I do not think that the citizens, the Romanians deserve to be fooled, to be induced expectations that will not happen later. I always prefer to talk less, to appear less in the media and to do what I have to do, because such a situation is managed with based on thorough judgement, with a lot of team effort and with people who really understand what the situation is like. I think that beyond any political aspect, what should come first is our responsibility to the country, to the people. I do not think that this is the time to get into any type of political competition on issues that are extremely serious and which impact people's lives.
Host: What you are saying, Prime Minister, is important, because for a long time we, in Romania, have not had a sincere discussion about a country project and maybe at the end of the interview we will dwell a little on this idea of the country project "Where is Romania heading to?" Until then, let's see what's happened since you took office, and it's been seven months that have passed very quickly. How has Romanian evolved over this period and what has been the biggest challenge? I suppose you didn't expect for so many things to happen.
Nicolae Ciucă: We took the helm of the government after a period in which we all had to endure the rigors and limitations imposed by the pandemic. We also took over after a period of political crisis, you remember that there were three months in which a whole series of debates and turmoil took place and a decision was made to build this coalition, which, of course, many people at that time didn't appreciate. They believed that a center-right party and a center-left party would not be compatible enough to be able to achieve this condition. Of course, we must also mention the UDMR and here are three parties that have taken responsibility for ensuring the stability and governance of the country, because, as I said before, from my point of view, ensuring stability is the most important goal right now. Therefore, you're right, we were not expecting something worse to happen, worse than what we had already lived. The energy crisis had started, but it looked like it was going to be settled, there was that emergency ordinance by means of which an attempt was made to slow down the electricity and gas price rise. So back then we were in the same situation as today – it's a sort of déjà vu, actually – and it wasn't long before the war in Ukraine broke out, because of Russia's unprovoked invasion. And, of course, the whole activity of the government was focused on resolving all these daily situations, because the dynamics and evolution of these crises was changing every day and it was necessary for the government to use all its human, material and financial resources to cope and maintain that stability. So, the solutions were identified in such a way that we could ensure the administration of the country and at the same time think about the projects that had been established as part of the governing program. I'd like to say that, when we took over the governing, very few thought we would be able to approve the budget by the end of the year, and at the same time to meet the targets and milestones set in the NRRP, which were, in fact, untouched. We managed to achieve these goals in a month, we had the budget approved, which was a very, very, important goal because I don't know what we would have done if we didn't have the approved budget back then.
Host: That's what I was thinking, it's a big thing to be able to do things at the right time.
Nicolae Ciucă: And it must be a lesson for us, to do what has to be done at the right time.
Subsequently, we sought that beyond these current daily activities, crisis management, to think about the future, because the government came on a very high level of ambition, namely maintaining a certain percentage and the ensuring a very high percentage as compared to those provided so far in the government's investment program, along with measures to ensure remuneration for people with vulnerabilities. We managed to balance very well within the three parties both the measures related to investment and the protection of the economy, the protection of jobs and the protection of citizens. I think that these were the biggest challenges and at the same time to put in place the mechanisms we needed to attract these European funds. We are talking about 96 billion euros that are available to us both from cohesion funds - here we are talking about this extension period for the multiannual program 2014-2020, which is to end in 2023, and we cannot afford to lose this money. We are talking about billions of euros that we have to absorb; disengagement of these funds is inadmissible. At the same time, the National Recovery and Resilience Program, for which we had no mechanisms, no one had experience in this regard, but it was a huge opportunity, because the difference between this program and the multiannual ones is given by the fact that there is no grace period, no extension.
Host: Take it or leave it.
Nicolae Ciucă: Exactly. It started in 2021, it will be completed in 2022. You met the respective objectives and targets, you get the money. If not, it's wasted money. If anyone thinks that we can afford to lose this money, it is a big mistake. We need to attract this money, because it is money destined for the modernization of Romania, it is money destined to solve the problems we have been complaining about for many years. We have the opportunity to reduce red tape, we have the opportunity to modernize the administration, we have the opportunity to digitize, to provide public services more accessible to our citizens, we have the opportunity to modernize health, we have the opportunity to modernize the education system. These are issues on which the Government is fully focused. And at the same time, and we already have the operational programs approved, and today in the government meeting we approved one of them, the operationalization of the programs for the multiannual framework 2021-2027 and, in this way, we reach the total amount we talked about earlier and also our governmental commitment to such projects. You talked a little earlier about what our country project is. Our country project at the moment is to be able to ensure balance and ensure economic stability, to ensure jobs, to provide more jobs, to determine the Romanians who are in the diaspora today to come home and to fulfill their wish we must create that level of confidence, make those changes, create the modern world to which they can return and lead the same life they lead today in the Western European countries.
Host: Mr. Prime Minister, in the first minutes of our interview you used the word stability several times, stability of the country, stability of the government. Why, looking back at the seven months that have passed and looking into the future, is stability so important? What should the regular people who are listening to us now understand? What is happening to the country?
Nicolae Ciucă: In a crisis situation, stability is needed and I said stability because imbalances in a crisis situation are the easiest to occur. Our purpose is precisely to avoid these slips, these imbalances and this can be achieved only by truly understanding what stability means in the true sense of the word - economic stability, social stability, stability of the business environment, trust ...
Host: Political stability
Nicolae Ciucă: I was getting to political stability. Trust, predictability are elements that we took over from the dialogue we had with the associative environment, with the citizens, with the business environment, with the Government institutions, with the state institutions. And above all, we need political stability, because when you talk to partners and discuss issues of interest on investment, attracting investment to our country, the first thing you look at is stability, macroeconomic stability and, of course, political stability, because this stability ensures confidence and predictability in the investments they want to make. And also - I think it is the most important - ensures the confidence of citizens that they can plan, in turn, their own activities, in a predictable perspective. Otherwise, when ...
Host: You know the saying: When it doesn't happen, we are just blowing in the wind.
Nicolae Ciucă: I don't think we should think of ourselves as blowing in the wind, like the leaves that don't know where they are heading to and where they are going to land.
Host: Prime Minister, after two years of pandemic, we all want to go back to the life we had before. Unfortunately, we are facing an economic crisis whose first effects have been felt since last autumn. Could we have prevented this crisis, is there anything we could have done better? Because it is important for Radio Romania News and Current Affairs listeners to understand the global economic context, not just the national context. We may be wondering where we went wrong in this crisis. Could it be just our fault?
Nicolae Ciucă: Of an economic crisis, at national level, we could have discussed if Romania were registering an economic decline, compared to the other countries, but it's not the case. After this pandemic period, with the measures taken at both national and European level, the NRRP is the result of a decision by the European Union. And here I would like to open a parenthesis and emphasize how important it is to be members of the European Union and to be members of the North Atlantic Alliance, they are our safety umbrellas, they are our guarantee for these programs of opportunity to maintain the stability I was talking about - I close the parenthesis. Returning to your question, we are, thanks to the measures we have taken, although we were not credited with very high chances, the country with the highest economic growth in the first quarter, compared to the previous quarter. We have an economic growth of 6.4% compared to the same period last year, we have an increase in investments of 34%, as published by the Romanian National Bank. So, things have happened that are not great goals, but they are proof that measures have been taken that are consistent and appropriate to the situation. The crisis was not generated by internal factors. The crisis is a global one. We can see the economic crisis through what is happening in all European countries. We see that inflation has exceeded expectations in countries much more economically consolidated than ours, like Germany or the Netherlands.
Host: Great Britain has recently announced it.
Nicolae Ciucă: Great Britain, the USA; So this economic downturn has produced an impact all over the world and we were also able to see a very interesting situation: during the pandemic, we saw the need for resilience of each country and the need for resilience of the European Community, the European Union and, at the same time, the need to be able to ensure the necessary minimum response in any crisis situation. Basically, this means resilience, but also another thing became visible, namely how long it takes to bring raw materials, to bring equipment, to bring products from very long distances, and these disturbance in the supply chains, in the logistics chains can be considered one of the causes that have generated and continue to fuel this crisis. As such, the economic crisis is one that so far we have been able to manage and not by chance, repetitively, we have talked and will continue to talk about the need for investment, because practically a crisis brings negative effects, but it also creates opportunities. One of the key opportunities is to be able to value our national assets and succeed in attracting, using our own resources, investors and starting to produce value-added goods. I think that for too long we have exported resources and raw materials without producing value-added goods. However, our country is currently able to do it, precisely by using these investment opportunities and financial opportunities offered by European mechanisms, but also by attracting investors from outside the EU, and in this way, we can achieve this goal.
Host: Prime Minister, because we have discussed the economic context, I would ask you to continue with another context that you know, just as well at least, if not even better: the security context. How do you assess the current situation and what are the risks for our country in the conditions in which a war is being waged on the northern border?
Nicolae Ciucă: Northern and eastern border.
Host: And east, to be specific.
Nicolae Ciucă: The security context is one that must be analyzed as a whole with all the geostrategic implications and one that started a long time ago. The first signs were given in 2008, when Russia invaded Georgia, after which, in 2014, it became even more evident through the annexation of Crimea, so that later we could see the deployment of military capabilities both in the Crimean Peninsula, in the Black Sea, as well as the activities in the eastern part of Ukraine. In fact, immediately after the annexation of Crimea, the war broke out in the eastern part of Ukraine, in the two regions, and later there was a development that we could see and, of course, we could not anticipate the exact moment, but when the evidence became clear, it just started. The most important aspect I want to highlight is that of our membership in the North Atlantic Alliance. It is our greatest security guarantee and we could also see the immediate reactions at NATO level when the first military forces in the NATO Response Force were deployed in Romania, at Mihail Kogălniceanu, now at Cincu and also a full set of decisions is expected from the next summit to be held in Madrid very soon. And we have also been able to have a whole series of security commitments with our strategic partners and be able to manage this situation, conveying our message to the people of the country to look with certainty at the measures and instruments of security and safety of the population in this context, and the way it will evolve, because you asked me how this situation will evolve, is very difficult to anticipate because it would mean speculating and we do not have to do this, because that is not what I think is what citizens are expecting from us; they are waiting to see the concrete measures we continue to take in order to be able to increase these guarantees, to increase everything that can generate that confidence that we are able to ensure the defense, security and safety of the citizens.
Host: Prime Minister, one of the Romanians' biggest fears of Romanians is about decent living. And they are rightfully worried about being able to ensure this decent living. On the other hand, in some countries, we see, measures are being taken to rationalize consumption, and globally there are already discussions and alarm bells about a potential food crisis. In addition to the continuous rise in prices over the last year, do we, Romania, the granary of Europe, have reasons to fear a food crisis?
Nicolae Ciucă: I will tell you about a discussion I had with an interlocutor from abroad and when this topic was discussed, this is what he said. He said: of course, we are living a complex situation, marked by crises, so we can talk about the energy crisis, the gas crisis, we are talking about the food crisis, food security, but you, Romanians, should not be afraid of this aspect. Romania, as you said, it has a remarkable agricultural capacity. Of course, at the moment we are weather dependent, our agricultural production is weather dependent and that is why I think it is very important to make decisions in the sense that we can eliminate this dependence and provide support to Romanian farmers to be able to carry out an activity in the field that can ensure productivity, including in drought conditions. Basically, we are talking about the development of irrigation systems and sustained efforts are being made in this regard. We are talking to the European Commission, we are discussing with our strategic partners and not only, to have them invest in the development of irrigation systems in our country and in the development of Romanian agriculture, because we can produce enough to provide food for the country's population, but in the same way we can provide food for those who need it and are not as blessed as we were, to be able to have what we need and not be afraid of a food crisis. I've been to the countryside, I have visited, of course, counties, towns, facilities. Among them were those where agricultural activity is carried out on farms, including livestock farms. I even went to locations where agricultural products are processed and I received the guarantee, in fact, I could see with my own eyes that we do not have any problem, I could see that we do not have a problem with the supply of edible oil, for instance, when everybody's talking about an oil crisis. Romania has enough oil. In a single factory we cover 40% of the country's oil needs. Or Romania has, if I'm not mistaken, seven large and five smaller factories for processing sunflower seeds. We also have milling capabilities, so we can easily get food. Of course, we don't just use flour and oil. We still need to invest, therefore, in the measures included in the "Support for Romania" package, as one of the measures aims precisely at supporting farmers, supporting the food industry, supporting genetics for Romanian animal husbandry. We need to take concrete and urgent action in this area. In the field of pig farming, for example, Romania was a country with potential. Today, our ability to raise pigs on farms in Romania is quite small and we fail to provide them with genetic material in line with the potential we have to develop this capability.
Host: How should we, the citizens, behave during this extremely complicated period? Should web e more cautious?
Nicolae Ciucă: It is very difficult to give advice. It is very difficult and very easy. We can give advice and you have seen that there are many opinions, many ideas. I think it is very good to tell people the reality, to tell them that we are not going through an easy period and that we have solutions for any situation. You even said at one point that we are talking to someone who knows everything and has solutions for everything. I couldn't say I know them all. The Government does not know them all and doesn't have solutions for everything. And we can't deceive people, telling them it's going to be okay, when the situation isn't exactly the way it should be. And, given this succession of crises, in this context, I believe we should be cautious, and have the necessary reserves. If at the level of the EU and at government level we aim to increase our capacity to deal with such things, then I believe that each and every one of us should have a minimum of financial and material resources to be able to deal with such challenges, which, we usually don't think of in advance. I was saying that when we took the helm, we did not image we would get to deal with the things we are dealing today.
Equally, we should continue to be thrifty, as you've just said, to be able to have material and financial resources available, to be able to strike a balance, to ensure stability by taking clear measures transparently and honestly.
Host: The Prime Minister of Romania, Nicolae Ciucă, is tonight's guest on "The Night Service". The biggest problems the common Romanians are facing are skyrocketing prices and the devaluation of the leu, as they have a direct impact on everyone's life. Can the government intervene to curb price rises? And if so, how and by using what tools?
Nicolae Ciucă: Now, as happened with the energy and natural gas prices, for instance gasoline prices these days, there are situations that can be tackled by us and others that depend on the power and administrative responsibility of the Government, and you've noticed we have been able to intervene, and we can do it now, too, but as a commonly used Romanian idiom says -and I apologize for saying this- "you should cut your coat according to your cloth". (ad litteram "you can stretch as much as your duvet allows you'')
Host: It's night-time, so people understand it.
Nicolae Ciucă: Yes. Every time we should look at the resources we have, resources that we have made, make and will make available every time, so that we can curb these price rises. However, we live in a democratic, free society, in a free market economy and we all know that supply and demand represent the basic mechanism of a market economy. And then, as you've mentioned at one point, interventions have been made at the level of other countries, where a whole series of ceilings, capping and limitations have been operated, and which have led precisely to rationalization and limitations. This is how we should analyse the issue, in order to be able to take the most appropriate measures. The government has intervened and will intervene, as I've just said, as we must ensure stability and predictability. We cannot however intervene in the economic environment, in the business environment, we cannot take measures whose effects we cannot tackle. We all know, just as well, that at government level or at the level of a business, irrespective of its size, a plan should be made. That plan is drafted in accordance with the financial resources, there is a budget planning. Or, if we do not have the necessary time span to implement restrictive measures or if we intervene harshly, as I've said, we can only produce imbalances. Therefore, when we talk about inflation, we should say there is domestically generated inflation, because of rising prices, on the one hand, and imported inflation, on the other hand, as inflation which produces effects within the European Union or outside our country is finally imported by our country, as a ripple effect of our economic relations. Therefore, all these measures should be taken appropriately, to avoid increasing the inflation rate, or when we want to curb inflation, we should make sure we will not have a stagnating economy as a result as well. It takes a lot of wisdom and knowledge in the field; we need very good professionals. I am not an economist, but I trust those I work with and I have confidence in the dialogue I have with the business environment, I have confidence in the dialogue I have with civil society and with the associative environment. And you should know that very good ideas emerged following these meetings. There have been ideas that we have used when drafting bills, there have been ideas that we have used when we took certain measures and I believe that being always aware of reality is very important to all the measures that a government can take.
Host: Alongside the ruling partners, you've foregrounded, from the first days of your term in office, the welfare of vulnerable people. What are the main measures you envisage to protect the categories affected by rising prices and inflation? And I believe it would be best to briefly mention the large categories that you, in your capacity as Prime Minister, have taken into consideration, the retired, those living in rural areas, the active people but who are in the low-income bracket.
Nicolae Ciucă: You remember that when we talked about the "Support for Romania" package, I wanted to mention that some of the measures were intended to support vulnerable people, whereas some other measures are designed to support the business environment. Why did we decide to take this approach within the coalition? It is because we can't ensure the support of vulnerable people if we don't have the necessary resources. Therefore, we need economic incentives, we should make money and we should collect money to the Government budget, to be able to take those social protection measures. 40% of the 17.3 billion package, if I'm not mistaken, went to social support measures, 60% covered measures to further ensure the functioning of the business environment, protect jobs, and we have done nothing else but provide the minimum amount of oxygen enabling the economy to function in this crisis situation. And because you've asked me what measures we've taken as part of this support package, there have been measures for the Romanian and foreign investments, which benefited from a state aid scheme worth 200 million Euros, road carriers and distributors have been supported to offset the energy price and I am convinced that today's measure also comes to their support, as it doesn't impact only citizens, but also the business environment. Also, we've made an infusion of 5.2 billion lei, both national and European funds, which have been used to offset the rising prices of building materials and the higher costs with the labour force. Thus, we've made sure that programs to develop local communities will further be carried out, to reach the goals we have set, as they started properly but were brought to a halt. It was practically a very long-awaited measure by the local authorities and the line business environment. And there have also been measures that we have used as good practice measures, I'm referring to furlough and the Kurzarbeit program, which were also used during the COVID-19 pandemic. For investors in agriculture and the food industry, we have provided 300 million Euros of working capital, because, as I've said, we should encourage the production of value-added products. Also, those who process their agricultural output in the country benefit from a production premium of 10% of the processed value. And there are, of course, social measures, and here we are talking about over 2.5 million Romanians who benefited from 50 Euro worth vouchers every two months. They are intended for the retired, for people in the low-income bracket, in brief, for vulnerable people; and we are also discussing a 200 lei voluntary increase in the minimum wage paid in the private sector. In July, approximately three million people with pensions of less than 2,000 lei will receive 700 lei in financial aid each. The value of the hospital food intake has been doubled for hospital patients, the daily allowance for institutionalized children has been increased; also bank loan repayments have been postponed for 9 months-these measures have been on the Government's agenda and I am firmly confident that, as we've discussed in the coalition, we can see right-wing measures that have been promoted by the National Party Liberal, just as we can see left-wing measures promoted by the Social Democratic Party. There is a balance which ensures both political and social stability.
Host: And, ultimately, the well-being of Romanians... Prime Minister, because there has been much talk on this issue lately, I ask you directly: does the government intend to increase taxes for the population or for companies?
Nicolae Ciucă: There have been very heated debates on this issue and it is only natural, because it is a topic of interest for the business environment, on the one hand, and for each and every citizen, on the other. We are well aware of the fact that Romania is now the country that recovers the lowest percentage of the VAT. There are telling figures, namely we fail to collect 33-35% of the VAT. However, from the moment we took responsibility for the governance, we talked about improving the tax collection capacity and we came up with a measure whose implementation was given little credit. So, we came up with the electronic invoice starting from April, and it will become mandatory as from July 1. It was a time of preparation and testing when the e-invoice was only voluntarily applicable. Also, the radar of goods was introduced on April 1, too, and it becomes mandatory as from July 1. We are also talking a lot at the level of the National Agency of Fiscal Administration (ANAF) about the digitization of the institution and ways to increase its tax collection capacity. On the one hand, we believe this exists, but actually it is not our belief, it is reality which tells us that one of the solutions is to increase the degree of collection and we need to increase the degree of collection. We will do it by using technical instruments and tools, which are independent of the intervention of the human factor. We will have both proper hardware and software, so that we can have a clear image of both money traceability and money collection, to see where and when it reaches the state budget, on the one hand. On the other hand, it is very clear from what I understand that there is a whole series of exceptions in the Romanian tax system, exceptions that must be eliminated. I think this is our mission, at the moment, under the circumstances, as we cannot simply step in and announce that a fiscal reform will soon be carried out. I don't say this approach is not necessary, as it is necessary, I just say this is not the proper time to step in and start a fiscal reform. That is why we make a fiscal adjustment, and we try to eliminate all these exceptions. We've talked about this adjustment and I am confident it will be well received by both citizens and the business community. And we are also aware that in this whole set of relationships we need to ensure the predictability, reliability and consistency of the business environment, because the business environment is the engine of the economy, the business environment is the one that produces the money we need to use, we should be able to spend it, to intervene when needed. Therefore, you also see here the dispute: the National Liberal Party, the Social Democratic Party, on fiscal measures. It's a good thing that a debate is being held. We should take measures having in mind the citizen and the business environment. I did not support ... From the first moment the coalition was formed, I claimed that we would not increase taxes. We should ensure this equity in the application of taxes. We have a flat tax and this flat tax is, unfortunately, disproportionately applied. It depends on where you look from. If you take a look bottom up, it has an upward applicability. If you take a look top-down, it has a downward applicability. That is why I believe it will be a good thing to strike a balance, to ensure the elimination of exceptions and the application of the flat tax. Also, it will be a very good measure to eliminate all other exceptions and make a fiscal adjustment as agreed. And I want to boost confidence, among both citizens and the business environment, as we must maximize tax collection and ensure predictability in terms of budgetary planning and fiscal planning for the business environment.
Host: We take a break as the 01.00 o'clock newscast is being aired. I remind you that tonight's guest on "The Night Service" is Prime Minister Nicolae Ciucă. Stay tuned to the frequencies of the public radio (…)
We continue our dialogue with the special guest of "The Night Service", the Prime Minister of Romania. I would like to talk for a few minutes about a second Romania, as there are some 10 million Romanians living outside the borders of the country, who hope for a better life. What messages do you have for them, in your capacity as Prime Minister?
Nicolae Ciucă: At the start of the show, I told you that one of our government objectives is to make Romanians living abroad return home. I am sure we will not convince them to come home, only by urging them. We need to make things happen, to determine them get rid of homesickness and return home, to their families, where they should find conditions similar to those where they work today. Not long ago, the National Council of the National Liberal Party convened and one of the important decisions made by the Council was related to the Romanians living abroad, as we decided to dedicate a special office for the Romanians living abroad at the level of the County Councils led by presidents who are members of the National Liberal Party and at the level of each branch and also to create online information platforms for the Romanians living abroad. Also, at government level, we decided to choose as a landmark of addressability the Romanians working abroad, through all the measures we take. In what sense? I give you a very clear and simple example, also by means of the National Recovery and Resilience Plan (NRRP). The enforcement of the NRRP involves a whole series of facilities and lines of financing that can and should be accessed by the Romanians living abroad. Subsequently, this should be done and should be brought to the attention of the Romanians living abroad. At the level of the Ministry of European Investments and Projects, we've discussed with Minister Boloş so that this line becomes functional, becomes operational and is brought to the attention of the Romanians living abroad. This is a small step, but I think it's important, on the one hand. Secondly, there is a plan of measures to ensure faster and simpler public services through digitization and by bringing the citizen closer to the administration, just like in western countries. I also think it is very important - and it is an objective that we must keep in mind – to have salaries close to the level of those paid in the West. I must admit that reducing labour taxation in Romania is always included among the points that should be put on the agenda of talks. We discussed at coalition level, we discussed at Government level, it is a measure that should be applied, but I do not want to create vain hopes by saying it will happen this year. However, reducing labour taxes is also on the coalition's agenda. This can be an additional reason for employers to increase salaries ... It is a measure by which, at the level of the employer, with support from the state, salaries can be increased and become more attractive. So, honestly speaking, we need Romanians to return home, and we should fulfil the pledges we have made, and take the necessary measures to create the framework for them to be motivated to return home. We need their workforce, we need their experience, we need their determination, and we should also mention that a healthy business environment can be consolidated by having an educated and experienced workforce, which can be a direct participant in all these projects. Therefore, I think it should be a priority for all of us to do everything is needed for Romania to become attractive to the Romanians who are now working in other countries.
Host: Our relationship with the Republic of Moldova is not only a special one, but it has reached the highest level over the past decades. Just a few hours ago, the European Parliament adopted a resolution calling on the European Council to grant Ukraine and the Republic of Moldova the status of candidate countries for accession to the European Union. Does this success belong to Bucharest, too?
Nicolae Ciucă: First de foremost, it is the success of the Republic of Moldova and I want to take this opportunity to congratulate them. If you ask me if Romania has contributed to this success, the answer is categorically yes. Starting with the President of Romania, the Romanian diplomacy, starting with all the support measures we have taken for the Republic of Moldova on its path to the EU, all this makes us believe we have also contributed to this decision being made. But, first and foremost, it is the merit of the Republic of Moldova to have been granted the status of EU candidate country. As you very well know, there have been multiple meetings. The President of Romania paid a visit to the Republic of Moldova, I accompanied him on the visit, the President of the Republic of Moldova, Maia Sandu, the Prime Minister of the Republic of Moldova, Gavrilița, came to Romania, I went to Chisinau, we held meetings, we had a joint government meeting, we established and signed memoranda of cooperation and support, we continued and will continue to support the Republic of Moldova to become an EU member. And I see in this decision an important turning point of this journey and everything it represents. That is why, I take this opportunity to say thanks again for the decision that has been made and to congratulate our brothers in the Republic of Moldova on getting this status.
Host: We are slowly approaching the end of this edition, it is a tour de force, because we are talking about everything that is relevant in this period for Romania. But we remain on the other side of river Prut. What could Romania do in the next period of time to boost Chisinau's chances of joining the European family?
Nicolae Ciucă: We will have to continue this journey to support and share our experience, to provide the necessary assistance in each field and Romania has the necessary specialists to do that. Romania can coordinate with other EU member states to ensure the support the Republic Moldova needs in this endeavour, and of course we will continue the cooperation and support activities that we have carried out so far and I am confident that, from now on, we will have to continue to provide support even more consistently than before. In fact, the whole framework has been created for us to be able to achieve this ambitious goal, because it is truly worth reaching and we have a duty to support them, just like we have been supported in our turn. We have all been able to see what membership of the European Union means, how many times the Gross Domestic Product per capita has increased, what the financial benefits are and how we can use these resources which we enjoy as members of the European Union, in order to develop and modernize Romania.
Host: Prime Minister, another issue that has stirred heated debates in the public space concerns the intention to amend the national security laws. Yesterday, in an informal dialogue with the press, you stated that it would be good for the new laws to be adopted by September, possibly in a special session of Parliament. Why is necessary to amend these laws and what the main changes will be?
Nicolae Ciucă: I'll start with the last part of your question. These laws should be amended because they were passed in the early 1990s, these laws should be brought in line with the new constitutional provisions, and should also be adjusted to the current geostrategic situation, including responsibilities arising from our status of EU and NATO member country. Obviously, each law must be amended in accordance with the evolution and dynamics of society or with those of the institution for which it was adopted; and I am really sorry that we've reached this point to see a diluted relevance of these defence and national security laws, because they probably needed to appear in public in a rough, unfinished form. No analysis of any of the laws had been started at that point. As prime minister I take full responsibility for the transparent and democratic path these laws will take. We have all fought for democracy and freedom and here we are now, 33 years on, since the Revolution. We have the duty to continue to guarantee that both individual freedoms and everything related to the specific elements, characteristic of democratic societies, will never be affected by these provisions. I can understand the fear, I can understand it and I am confident that, just like me, all those responsible in the field understand it, but at the same time I can give you guarantees and assure you that these laws will not take other path than the one they must take, and that debate and approval procedures will start at government level until the final form is adopted, then they will be submitted to Romania's Supreme Defence Council for approval, will be debated by the relevant commissions of the Romanian Parliament and then approved by the Parliament of Romania. The sooner the better, because we need this legislative improvement in the field of defence and national security.
Host: As Prime Minister, you are responsible for the activity carried out by all members of your cabinet. You have announced an assessment will be made in the ensuing period of time and I ask you: what are the criteria based on which ministers will be evaluated, especially taking into consideration the announcement made by the Minister of Agriculture, Adrian Chesnoiu, a few hours ago. Is integrity one of the criteria?
Nicolae Ciucă: As early as we took office, we agreed that in six months' time, an evaluation of each minister's activity would be made in terms of reaching the sectoral objectives set in the government program, according to each portfolio. So first of all, we have to analyze the activity according to the benchmarks and objectives set in the government program. We agreed to not make the evaluation after six month, because that meant June, when we were setting milestones and targets for the second quarter, and we agreed in the coalition that this evaluation should take place at the end of June, when all milestones and targets have been reached. In keeping with all these, a final decision is to be made after assessing the activity of each minister. Integrity is a landmark, not an important but an extremely important landmark in the evaluation of ministers and today's reaction was appropriate. Minister Chesnoiu tendered his resignation which I unequivocally approved. Government procedures will start for the nomination of an interim minister in the next period of time until a political decision on the replacement of the minister is made.
Host: In a world where fake news and conspiracy theories are increasingly disquieting, how important is the press to you and, in this war of fake news, how much do you count on the public media, on the public radio, Prime Minister?
Nicolae Ciucă: The press is one of the pillars of democracy. It is a guarantor of democracy and I have repeatedly underlined that I am a fighter and a militant for ensuring the freedom and proper functioning of the press. Therefore, to me, the press is as important as we are to you, and everything we have done and everything we will do from now on is meant to ensure full transparency at government level, at the level of state institutions, to ensure the correct and timely information of people. And I think it is very important to provide real information, true information, because in this context, unfortunately, we can see that this ability we have been talking about can be very quickly unbalanced by fake news and information which is profoundly disquieting for the population. You know very well, as a journalist, that when we talk about many recipients of press information, we are practically talking about people's perception. Or, influencing perception is one of the objectives of those generating fake news, who misinform and disinform, who seek to reach their goals, also by using propaganda. Undoubtedly, at the moment we do not have the necessary mechanisms and tools to combat fake news and disinformation, but I firmly believe we should provide real information, true information and I encourage every citizen to ensure their own grid, to filter information, to make sure the information is credible and is truly real. Otherwise, unfortunately, we play with people's perception, we play with their power of understanding and I don't think that's what we want. But, I underline once again, I think it is very important for us to be able to find together with the press the necessary means to combat fake news and ensure the correct and real information of the citizens of the country.
Host: The last seconds of our interview ...Do you have a message for the listeners to the public radio station?
Nicolae Ciucă: My only message is to have confidence that by everything we do - and when I say everything we do, I mean from morning to morning – we ensure everything that is necessary, through balanced measures, measures to ensure economic stability, to protect jobs, to protect the citizens of our country and to protect ourselves from all challenges and all these effects produced by successive and sometimes simultaneous crisis situations.
Host: "The Night Service" comes to a close. Tonight's guest has been the Prime Minister of Romania, Nicolae Ciucă. Thank you and hope to have you again on our show soon!
Nicolae Ciucă: Thank you! I owe you an answer. You've asked me what radio means to me. Well, radio makes me remember my childhood and, back in the day, it represented the means of information which provided news that one couldn't find anywhere else.
Host: We hope to remain the same trustworthy friend of all Romanians. "The Night Service" team: Luminița Voinea, editor; Cătălina Popescu, supervising sound editor; Ruxandra Săraru, broadcast producer. I am Maria Ţoghină, thanks for listening!
Etichete
Prime Minister of Romania
Nicolae Ciucă