Three top handball players transferred to CSM București (Women)
Three top handball players transferred to CSM București (Women)
CSM București announced transfers that will strengthen the team this summer.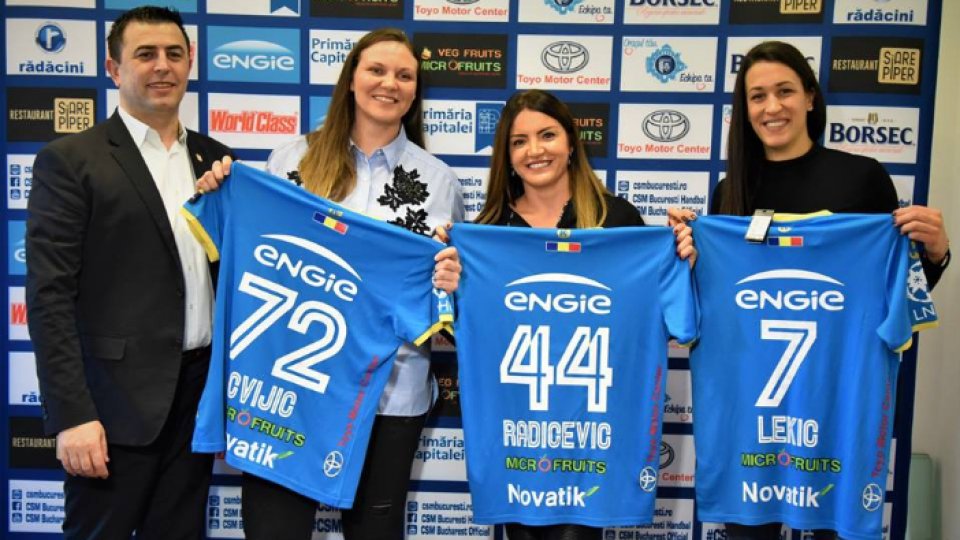 Articol de Gabriel Bucur, 20 Februarie 2018, 21:24
Top handball players Andrea Lekić, Dragana Cvijić and Jovanka Radičević will join Romania's Champion in Women Handball, CSM București, in July 2018. Transfer has been officially announced on Saturday, February 17. All three players come from European rival Vardar Skopje (Macedonia, FYROM), last year's finalist in the EHF Champions League.
30-year-old Lekić (Serbian) – center back - won the most important European club trophy in 2013 with Györ and has played for Vardar in the last four seasons, qualifying for the Women's EHF FINAL 4 each time. "My goal is to win the Women's EHF Champions League every season and it is pretty logical for me to sign for CSM, a team with huge ambitions," Lekić said. "I know a lot of my new team-mates, therefore I will be ready to go from the first day". Lekić signed for two seasons and will wear shirt number 7.
31-year old Radičević (Montenegrin) - one of the toughest right wings in Europe - has been playing in the Women's EHF Champions League Semi-finals for the last seven years. She also won the EHF EURO 2012 with her national team and the Champions League in 2013 with Györ. "I am very happy to be part of the best team and to be on the field alongside the best woman player in the world. I played against CSM in Bucharest and the fans were raucous. They are a very ambitious team and it was the perfect fit for me", Radičević said. She signed for two seasons and will wear shirt number 44.
27-year old Cvijić (Serbian) - line player, two-time Champions League winner: "I was very close to signing for CSM last season, but ultimately I ended up playing for Vardar. I am happy, though, with my choice now because we will be a very strong team. I am happy to play in a country that lives and breathes handball". Cvijić will find familiar faces in the CSM line-up as she has already played with Majda Mehmedovic and Cristina Neagu, setting up one of the best back court partnerships in the last decade with the latter. Cvijić signed for a season and will wear shirt number 72.
Source:RRA, EHF. Translated by Miruna Matei