Regional security and endowment of the Romanian Armed Forces
Regional security and endowment of the Romanian Armed Forces
Recent NATO summits outlined new directions of action, focusing on the allocation of resources to the Allied armies and on the establishment of new commands.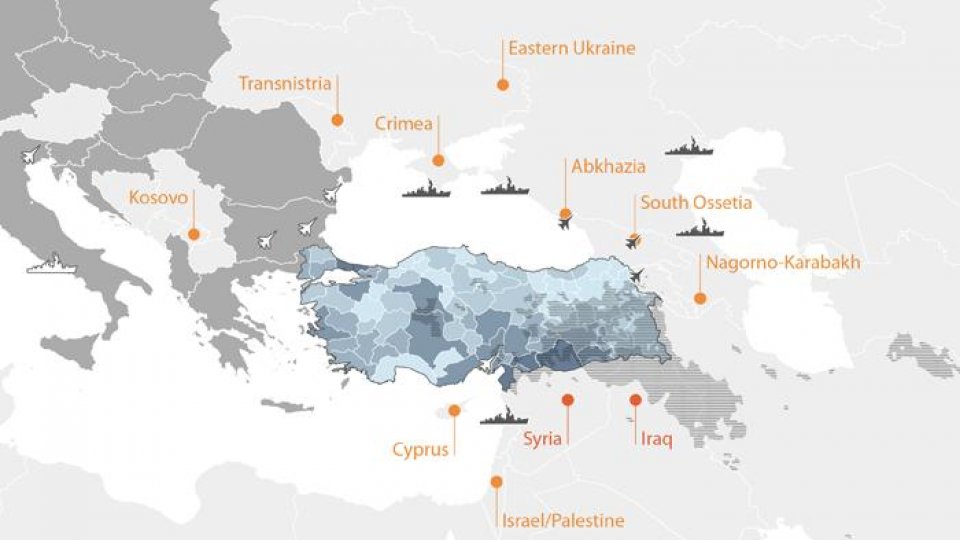 Articol de Radu Dobriţoiu, 13 Martie 2018, 15:34
Geopolitical and geostrategic developments in recent years have forced a rethinking of the North Atlantic Alliance's strategies. Recent NATO summits outlined new directions of action, focusing on the allocation of resources to the Allied armies and on the establishment of commands aiming to strengthen the eastern and northern flanks of the Alliance. Cyber defense, reaction speed, and NATO's commitment to respond to any type of threat are part of the new strategy, driven by the dynamics of military action north and east of the alliance's borders. In this context, Romanian Army's endowment is becoming a priority, both for the national defense and for the correlation with the NATO requirements specified in the Wales and Poland meetings. Therefore this year, the acquisition projects that have stayed on the Romanian Army's papers for years have now begun to materialize, supported by the allocation of two percent of the Gross Domestic Product (GDP) for the Defense.
RRA Military Reporter Radu Dobriţoiu discussed in the recent "Euroatlantica" radio show of Radio Romania News (Radio Romania Actualităţi RRA), about the endowment of the Romanian Armed Forces, in support of regional security, with emphasis on national interest, approaching the issue in two directions: the acquisition of modern fighting technique and the support of the Romanian economy, in other words, the endowment of the army by applying the offset law, which implies acquisitions with benefits for the Romanian economy. This edition's guest in the studio has been Retired-General Decebal Ilina, a former Secretary of State for Armaments in the Romanian Ministry of National Defense, as well as in the Ministry of Industries, former Chief of the Military Intelligence Directorate and Military Counter-Espionage Division. Journalist and Military Analyst Radu Tudor also had a phone intervention during the live transmission of "Euroatlantica" show.
Radu Dobriţoiu: General, you are probably the most qualified person, with a long experience in the defense industry, you have been a State Secretary for endowment at the Ministry of National Defense, then, if I am not mistaken, the first Secretary of State for the defense industry, after moving to the Ministry of Economy. Last year took place the most important military acquisitions, contracts have been concluded or have been announced; to what extent can these purchases bring money into the national economy?
Gen.(ret) Decebal Ilina: It is a special opportunity for the Romanian economy, because these contracts of high value, that will be done under the offset law or under the law of compensation (..), have two possibilities: first, to rebalance or improve in a way Romania's trade balance, because we have a huge imbalance between what we export and what we import; second, to significantly improve the Romanian industry in general, and the defense industry in particular, using this offset tool which most of the time - since 2002 when the law was promoted, 15 years ago - was either not used at all, neglected, or was used in sectors that were of no relevance to the Romanian economy. I think it's a great opportunity for us if we will know how to use this offset tool that many people consider to be an outdated one, which is not true. It is practiced by many countries and I would not want to refer only to underdeveloped or developing countries, such as Indonesia, Brazil, Saudi Arabia or Kuwait, but to countries in Europe too. In 2002, when we drafted this offset law, we took the British model. At that time, there was a British State-Secretary who worked with the Ministry of National Defense and who came here for a day, brought all sorts of documentation on the basis of which we drafted this law, of course while taken into account Romania's traditions and interests, based on the principles we have drawn from both Great Britain and Denmark and from other countries in Europe; Great Britain was saying that if the British Army did not want to buy Harriers and it wanted instead F16, then Lockheed ...
Radu Dobriţoiu: Lockheed Martin.
Gen. (ret) Decebal Ilina: Yes. The American company that was producing these planes bought higher-quality manufactured goods from the UK, that is, in a word, repatriated the work.
Radu Dobriţoiu: We are on the phone with the Journalist and Military Analyst Radu Tudor. Good evening!
Radu Tudor: Good evening, Mr. Dobritoiu! I'm glad to be on your show and I am delighted to hear again Mr. Ilina.
Gen. (ret) Decebal Ilina: Good evening, Radu!
Radu Dobriţoiu: We talk about regional security and the endowment of the Romanian Armed Forces. After long expectations, the main endowment projects start to take shape, important amounts of money from the Romanian budget are heading for military acquisitions, but, and I quote Minister of Defense Mihai Fifor, "Romanian Government did not buy with money from the state budget, there is an interest for technology transfer and for the re-launch of the Romanian defense industry". How can the transfer of technology and the restoration of the Romanian defense industry be achieved?
Radu Tudor: There are very concrete examples, and I would like to nominate, not to speak in general terms. Presently, probably the best private company in the field of defense industry, Aerostar Bacău, has the chance to become a regional leader, through two contracts conducted by the Ministry of National Defense within this major procurement program. One, the F16 aircraft acquisition program. Two, the Patriot missile system. For both programs, Aerostar is regarded by our US allies as the most valid company to carry out maintenance for both categories of weapons, combat planes and rocket systems. From this point of view, we realize what could mean such contracts for a Romanian private company. So a huge step forward. Two, Piranha military conveyors could be assembled here in Bucharest, and I understand that this is actually written in the contract, which could lead to the rebirth of the Bucharest Mechanical Plant (Uzina Mecanică), which has struggled with some small contracts over the last 20 years, an opportunity for this plant to participate in a major endowment program means saving this plant, maybe even hiring more people. The third example should be Ploieşti, where a private enterprise will participate in another missile program. There are countless examples. Our desire is obvious, as Romanians, that most of these procurement programs and contracts are accompanied by offset arrangements, and General Ilina explained to us very well what the offset arrangement means, but on the other hand, we have to understand that our defense industry has not been upgraded, modernized over the past 25-30 years, that there is a technological gap and that there are many things that cannot be done under the offset arrangement or in the supply programs than by technology transfer from large companies. It is a huge chance, however, for us, and I am convinced that in two, three, four years we will see spectacular business figures of the Romanian state or of private companies in the defense industry.
Radu Dobriţoiu: General Ilina, you see Radu Tudor reminded of this period when the defense industry almost did not function anymore. To our chance, however, the Mechanical Plant Bucharest continued to function, it was not privatized, as it happened with other factories in Romania. How can we recover this gap, this period when the defense industry did not work or worked very little to adapt quickly and win from offset contracts?
Gen. (ret) Decebal Ilina: This is possible now, if we use this chance properly and if those who actually have to apply the law will understand that they do have to apply it, because there is a law, so it is not optional (..). I would like to explain a few things about offset. In a procurement contract, when the Defense Ministry signs a contract with GD, with the Americans, for the Piranha conveyors, the acquisition contract clearly stipulates the offset obligation. So, the offset obligation is mentioned when formulating the calls for tender. It says: for the product concerned the participants have to ensure an offset of at least 80%, that's what the law says: at least 80%. We can do better than 80% if we manage to negotiate. So, when the procurement contract was signed, there was an 80% offset obligation, and within 60 days, the offset framework agreement must be signed. The offset framework is prepared and advised by the Offset Office.
Radu Dobriţoiu: The Agency.
Gen. (ret.) Decebal Ilina: Offset Agency. And the commission signs it, there is a governmental commission, made up by the Minister of Economy, Minister of Defense, Minister of Finance, the Foreign Minister and the Minister for Development, and the president of the government commission is the Minister of Economy. There is also a secretariat...
Radu Dobriţoiu: Led by the Secretary of State for the Defense Industry
Gen (ret) Decebal Ilina: Also from the Ministry of Economy. So, 60 days after the signing of the procurement contract, there is a framework agreement, so called offset, that needs to be signed, which provides: the offset value, the period in which it is carried out, what is done each year, how much is direct or indirect offset (..) , the obligations it takes, that it agrees with the penalties and the period in which it takes place. As a rule, these offset contracts, says the law, run for ten years, but no more than two years after the contract for the purchase of planes or armored carriers ends.
Radu Dobriţoiu: So we do have a legal framework, it only has to be applied. Mr Radu Tudor, we are looking at Poland – because we are having the B9 Initiative this week, a meeting of in Bucharest of thedefense ministers from nine countries on the eastern flank of NATO, the B9 initiative that has Romania and Poland as an engine - and we see what impressive acquisitions, with a strong offset, Poland made. Can we take this example?
Radu Tudor: We can certainly take this example. And I'm personally glad you brought it up. And I just want to say: Poland has managed the extraordinary performance of spending over 20 billion dollars in offset programs with the help of extremely powerful politicians. The only key that can help you impose in front of a major international company, in front of a large armaments manufacturer, is the help of powerful leaders who have a strong personality and say: in my country the law is this, I need to spend for my army ten billion euros over the next ten years, I ask all those who want to use this money to respect the law of Romania, to have offset arrangements in the military or civil industry. And then, the element that we have missed so far is the element of political firmness (..) there is this need for stronger politicians and leaders, able to understand that Romania is a big country, a strong country, a strategically important country, especially now, in the last four, five years since major strategic imbalances occurred in the Black Sea Basin. And then we can have expectations from them, because the military would obviously want better endowment, offset contracts, a stronger defense industry, we all want it and we look at politicians to see what they negotiate and what they decide.
Radu Dobriţoiu: General Decebal Ilina, would you like to add anything?
Gen (ret) Decebal Ilina: Yes. Radu is right and I want to underline that in 2001 I met with a large delegation of Americans, about seven politicians, among whom there were some former Generals, and in a discussion that I opened, the American Business Attaché (..) tells me, we do not appreciate Romanian dignitaries who are more pro-Americans than we need and much more pro-Americans than their function, we respect Romanian dignitaries who defend the interests of those who pay them, of the Romanian state. This is what our dignitaries must hear, they are placed in those functions, as Radu Tudor said, to defend the interests of Romania. The Czech Republic and Poland made 100% offset obligations and did not upset the Americans. And I'd like to make a brief mention here...
Radu Dobriţoiu: Please.
Gen (ret) Decebal Ilina: ... Israel, who receives 2.4 billion ...every year Israel receives help from the US, not cash, and gives back products: F16, Patriot, whatever they want.
Radu Dobriţoiu: Yes, they get military technology.
Gen (ret) Decebal Ilina: They chose the technology, bargain toughly with firms, and after negotiating with companies they tell the firms to pay, for the respective value, on the Americans' money, paid by Americans, to make offsets with products from Israel. When it comes to us, though, we are somewhat ashamed to raise this issue in front of the political party (..) we find all sorts of reasons not to. And one more thing that Radu reminded me of, Aerostar Bacău, in 1996-2000, when the program of modernization of the MiGs 21 took place, there was no offset law. And the Ministry of National Defense made the first offset operation with Elbit. This is how Aerostar and many other companies have developed.
Radu Dobriţoiu: With Israeli company Elbit.
Gen. (ret) Decebal Ilina: We specialized people, we had access to technology, we had technology transfer, transfer of machinery and so on. And there is now the opportunity to develop this defense industry, to make it internationally competitive, to improve the quality of products and (…) to conquer new markets. That is, there must be a preoccupation for Romania for trade rebalance, because otherwise, all these dignitaries are part of a government that tomorrow will account for the fact that these imbalances have led Romania to a dead-end road.
Radu Dobriţoiu: Radu Tudor reminded about Aerostar Bacău. I also want to remind of some statements of Romanian politicians; Prime Minister Dăncilă and Minister of Defense Mihai Fifor recently talked about the desire to turn Romania into a hub, a central hub for what military techniques and technology means for this region, including through this maintenance capacity for Patriot and for missiles at Aerostar Bacău. The coastal batteries are likely to be made in Ploiești, as Minister Mihai Fifor said. Mr. Radu Tudor, what would it mean for the allies in the region if Romania becomes a hub for the defense industry in terms of military techniques and technology?
Radu Tudor: We have a huge potential because otherwise we would not have exported $ 10 billion in weapons between 1979 and 1989. So from this point of view, we can bring again into discussion this huge potential, which was slowly, slowly let to an extremely low capacity over the last 27 years. Obviously we can negotiate our position. We are a welcoming, respectful country, we are tolerant, we want to perform in the economy, we are very relevant from a strategic point of view, we have enormous advantages. We are missing something, though, namely the political intelligence of those who rule Romania who have to realize that now is a historical moment that must be capitalized in a year or two and not later, and that the very interesting Israeli model which Mr Ilina referred to can also be applied to Romania. If you want to have a strong ally here in the Black Sea, if you want Romania to strengthen itself as a solid, pro-European and pro-Atlantic country, if you want, for the next 30-40 years, the whole of Eastern Europe to be connected to some of the European and American production systems, then strengthen Romania, invest here! We have the capacity, we have very well-trained people, we have capable companies, and this should be the priority of all Romanian politicians, as opposed to the scandals and accusations that we unfortunately see not only internally but also externally, among our owns.
Radu Dobriţoiu: Mr. Decebal Ilina, one of the major projects of endowment is that of the corvettes, announced by Minister Mihai Fifor. Defense Minister also said that he wants to use the offset in this acquisition project, and he also pointed out: in exchange for the purchase of corvettes, which would also be produced on Romanian shipyards or construction sites, two T22 naval platforms, the two frigates, King Ferdinand and Queen Mary, should be modernized. How can Romania rapidly develop with shipyards in this sector?
Gen (ret) Decebal Ilina: You have to be realistic, you cannot develop very fast. (…) There are two types of offset: direct offset, indirect offset. What does the direct offset mean? We participate with sub-assemblies, parts, components and other things to produce the basic product that the army imports, so to the creation of the frigates – we can do this here, on the Mangalia shipyard or on a few other shipyards that still have the knowledge. Indirect offset is the offset by which top-products manufactured in Romania are bought by a country, so that I have the financial resources to pay for my basic contract. Because there are also countries that use advanced offset. For example, somebody says: I want to buy four frigates that cost this much. You can use advanced offset, meaning that you buy from me all kinds of products, so that I can establish my financial resource, the currency with which I can buy my products. If we know how to negotiate, there is an offset framework contract, signed after the basic contract, and then the business plan. So, the one who sells does a business plan, saying: what does direct offset, what does indirect offset, and there's a technology transfer, provides licenses and so on. But they all come through a contractual obligation, signed by that governmental commission, and not by anyone, with the contractor, and in which quarterly and annually, as the law says, it is verified that our partner, that is, who sells, fulfills its offset obligations. If we know how to use this opportunity and have the courage to do it, I think there is a great chance we can develop the defense industry and bring it as close as possible to today's level.
Radu Dobriţoiu: We have an example near us, Hungary, that bought multirole fighters and, likewise, had an offset deal with Saab, who, in exchange for the acquisition, set up a whole factory of household appliances on Hungarian territory and delivered it to the key, in order to develop this ... this is probably an indirect offset, isn't it, General?
Gen (ret) Decebal Ilina: Yes. There is, it is the same commission and the offset agency who are obliged to study the development strategy of Romania and to choose from this strategy the priority areas of Romania that will have to be supported by this offsetting tool; it is subject to government approval and through governmental decision, it establishes the areas that will be supported by this offset tool. Because not only does it need to help you with licensed technology to build that product, it also needs to secure you with the market afterwards, because the hardest today is not to produce, but to have somebody to sell to what you produce.
Radu Dobriţoiu: At the end of "Euroatlantica", can we say, at the beginning of 2018, that this year can be decisive for the re-launch of the Romanian defense industry, Mr. Radu Tudor?
Radu Tudor: Yes, Mr. Dobriţoiu, and you are well aware that we, as journalists with experience in the army and national security, have been waiting for this moment for a very long time, and starting from the 90s, we wanted to hear about some more contracts and about a revival of the defense industry. It is happening now, slowly, slowly, and I would urge our fellow citizens to see the full side of the glass and to rejoice that the Romanian Army will finally be equipped as it deserves, as the most valued state institution in Romania.
Radu Dobriţoiu: Thank you very much. "Euroatlantica" at the end. I have discussed in this issue about the regional security and the endowment of the Romanian Armed Forces. The guests of the edition were Decebal Ilina and military analyst Radu Tudor. I am Radu Dobriţoiu and together with the Producer of the show, Nicu Popescu, thank you for listening to the "Euroatlantica" show at Radio Romania Actualităţi (Radio Romania News).
Source:RRA.Translated by Miruna Matei